Although we have not attended many events throughout the season so far our workshop has still been very busy with customers old and new. It is always good to see familiar faces but it is also good to meet new ones.
In early April two of our Caribbean customers finished 1st and 2nd in round 2 of the Jamaican Rally Championship. We provide parts to Kyle Gregg for his Mitsubishi Evo 9 and he won the event ahead of Timothy Stewart. Timothy's similar Evo 9 had just undergone a full engine rebuild and a gearbox rebuild and he was very happy with the performance on the rally.
Jeffrey Panton had a couple of warm up events to get him up to speed for his bid to win his 3rd consecutive SOL Rally Barbados. He won the MCBI Spring Blaze Speed Event at the beginning of April and the Automotive Art Shakedown Stages at the end of the month. On the Spring Blaze Event David Coehlo in an Evo 9 won his class on route to 10th overall whilst Andrew Mallalieu was only 2 seconds off winning Group N whilst guiding his Subaru Impreza to 12th overall.
Michael Binnie and John Wink fought to the very last stage for class 10 honours on the Speyside Stages. Wink took the victory on that final stage and finished 14th overall whilst Binnie was still happy to claim 2nd in class and 15th overall.
Binnie, with experienced co-driver Claire Mole calling the notes was awarded he SRC Star Driver on the Speyside Stages. The star driver is selected by a panel of judges to one driver on each Scottish Championship event and they all go into a shoot out at the end of the year to win a free drive on a European Event.
Paul Bird's return to rallying was drawing closer so he has had a couple of test to keep himself ticking over ready for his attack on the top of the leaderboards when he returns.
At the beginning of May we were approached by a Ford Focus WRC owner in Madeira who was interested in us to go and run his car on an event on the island. Rui Pinto finished 3rd overall only 15 seconds off the lead in a trouble free rally and was very happy with the car and service we supplied. We returned to the island in June for a second rally.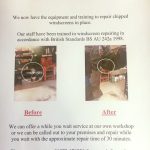 Towards the end of June two of our employees went and undertook the appropriate training with the specialist equipment to repair chipped windscreens. We are now available for call outs and for people to come to our workshop to get a chip repaired for a very reasonable price of £35 +VAT (call out charges apply).
At the end of May Michael Binnie took his first class win just over a year into his rallying career. He finished a great 7th overall on the Scottish Rally in his Mitsubishi Evo 5. John Wink as usual was pushing Michael all the way until a late puncture dropped him down the final leaderboard.
The 2017 SOL Rally Barbados was our 8th year attending the event. In that 8 years we have guided customers to 4 King of the Hill victories and 4 Overall Rally Barbados victories. This year saw Jeff Panton take his hatrick of wins on the main event as well as victory on The King of the Hill the week previous. Avinash Chatrani took 12th on King of the Hill then 13th on the main event in his Evo 6. David Coehlo was just behind Chatrani on the KOTH in 14th but sadly had to retire from the main event due to overheating issues. Andrew Mallelieu did not enter KOTH so went into the SOL Rally Barbados with no testing or running in the car and still managed 16th overall in the Subaru Impreza. We are very proud of our Caribbean connections and look forward to this continuing.
At the end of May we attended the celebration of 50 Years of Rallycross with Mark Flaherty in the Metro 6R4 we converted to Left Hand Drive over the winter. The celebration was a very successful hill which ran alongside the Lydden Hill round of the FIA World Rallycross Championship.
Towards the end of June, John Wink was thinking of making the step up from Group N. He came to us and we arranged with M-Sport for him to have a small test in one of their R5 Fiestas. John got on really well with the car and thoroughly enjoyed his day and was very thankful to M-Sport for the opportunity .
At the same time as Wink thinking of upgrading, his main rival throughout the 2017 season, Michael Binnie was also thinking of trying a newer car than his Evo 5. This lead to Michael purchasing John's Ev0 9. We look forward to seeing how Michael and the new car get on as he has shown great speed in the older version of the Evo. His first event will be the Grampian Rally on August 12th.
Kevin Crawford brought his Evo 5 to us for an engine rebuild. We removed, rebuilt and re-fitted the engine along with a new turbo and the car was feeling very sharp after the rebuild. His first event with the rebuilt engine is The Grampian Stages.
Jeffrey Panton headed for Rally Martinique in mid July and we attended this event to provided some support to him and his Ford Focus WRC. Former works driver Simon Jean-Joseph took the victory in a Citroen DS3 WRC on his home event and Panton had a solid run to 2nd overall.
At the beginning of the year we were approached by Craig McIlver about rebuilding his Fiesta ST gearbox at some stage throughout the season. We continued to communicate with Craig until we found a good time for him and the car to be stripped. He sent us the gearbox and we rebuilt it and sent him it back as soon as we could to have another happy customer.
Paul Bird will make his return to rallying at the Grampian Stages. Stuart Loudon will navigate for him in the new liveried Ford Focus WRC which now has Be-Wiser Insurance is now the main sponsor on the car. It is great to see Paul back in a sport he so clearly loves being involved in.
Also entered to the Grampian Stages is John Wink and John Forrest in a new car. We arranged a small pre-event test for the pair in order to get familiar with the car ahead of its debut. We are looking forward to seeing how John progresses the more he drives the new car.
Other jobs we have been busy with include:
An engine swap on a Vauxhall Corsa road car.
Geometry & make and fit new fuel pipes for an additional fuel pump on a Subaru Impreza track car.
Geometry and set up of throttle bodies on an Escort Mk 2.
Damper rebuilds on a various dampers including Ohlins and Reiger.
Gearbox Rebuild on Nissan Interstar.
Ford Galaxy turbo replacement.
Subaru Impreza Dog Box rebuild
Classic Subaru Impreza bottom end engine rebuild.
Supplying parts for UK customers and Caribbean customers.
Regular customer road car/4×4/van services and MOT Prep.
Follow us on Facebook and Twitter for up to date information on all our work.Facebook – Dom Buckley Motorsport

Twitter – @dbuckleymsport