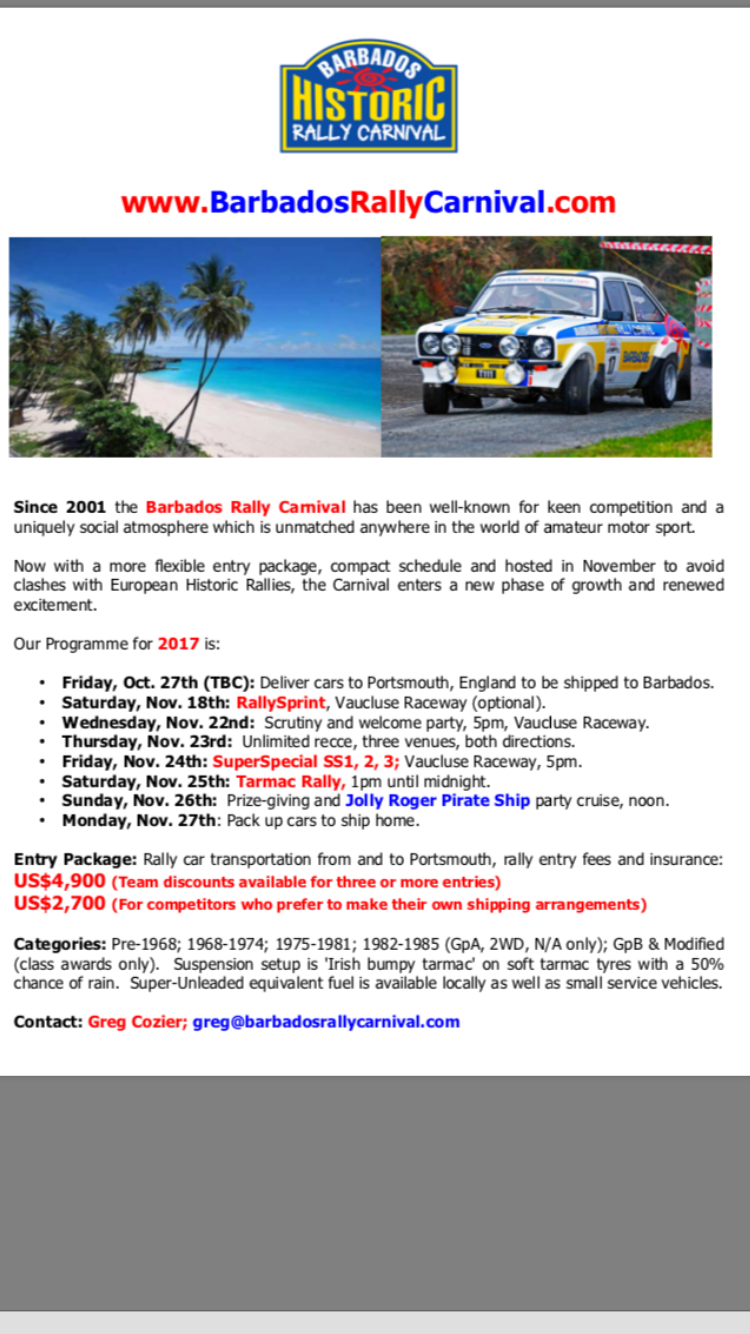 This year, 2017, the Barbados Rally Carnival will be 'Sweet Sixteen' years old.
As anyone who's been to this event would attest, there has been some legendary but typical 'Barbados; Ultimate Party Island' fun over the years the Carnival has been running. As good as the craic has always been, organisers are making a big effort this year to improve the motorsport elements of the Carnival while maintaining its spirit.
DATE CHANGES: When the Barbados Rally Carnival started in 2001 (then an event for modern rally cars), many competitors traveled on holiday with spouses and school-age children. It is, after all, very much more difficult to convince families that a rally trip to Barbados is going to be as unappealing as an expedition to an English forest rally might be for 'her indoors'. Rally Carnival dates were therefore originally chosen to coincide with UK school holidays.
Unfortunately, most of us aren't as young as we think we are and summer Rally Carnival dates clash with a host of wonderful European historic rallies. Since the Barbados weather is much the same year-round, organisers have decided to move the Barbados Historic Rally Carnival into late November to avoid conflicts with European events. Obviously, late-November is a great time to not stay in UK or Europe when there is rallying to be done in the Caribbean!
TIME AWAY: The Barbados Rally Carnival was created to be a wild, two-week, tropical holiday with a bit of rallysprinting and rallying thrown in for some extra excitement. Over the years many competitors noted that it was quite difficult to spend that much time away from jobs that were paying for the rallying.
For this reason, the serious motorsport element of the event, the night/day/night tarmac special-stage rally, has been concentrated into a single weekend within a relaxed one-week schedule which includes unlimited recce. For those who have the time, the traditional RallySprint at Vaucluse Raceway on the previous weekend is still scheduled and visitors are most welcome to take part, the rally cars will be in Barbados anyway.
PACKAGE: Group travel and accommodation are what really kicked off the Barbados Rally Carnival social legend way back in 2001 but most of the competitors and support crews over the past many years are repeat visitors who have long-since found their way around the island and fallen in love with various places to stay.
Last-minute internet discounts on flights and hotel rooms also make it very difficult for organisers to offer packages in advance while staying competitive on price. Airline ticket and hotel costs have therefore been removed from the entry package, which now includes: return shipping for rally cars from Portsmouth, port charges, rally entry fees, road and rally insurance and, maybe most importantly, free entry to all social events.
TEAM DEALS: Many visiting rallyists to Barbados, more than half in fact, have been to the island several times before. Consequently, many professional and semi-professional rally service teams know their way around Barbados better than some locals.
Barbados Rally Carnival organisers realise that, logistically, it makes sense to help teams help themselves and their customers by offering team discounts for groups of three or more crews. Dan Sutherland at Dansport in Chesterfield, Francis Tuthill at Tuthill Porsche in Oxfordshire, Mark Smyth at MS Motorsport in County Down and Baz Cannon at Rally World in Maldon, Essex are all very familiar with the island and can make any competitor's trip to this fantasy event stress-free by preparing historic rally cars for Barbados conditions prior to the event and servicing it while there.
HISTORIC CLASSES: Rally Carnival Organisers are determined to not let eligible class categories for this event 'drift' into the 4WD era of the late-80s and 90s as has happened on some European events in recent years. Classes therefore remain: Category 1 for cars built before 1968; Category 2 for cars built between 1968 and 1975; Category 3 for cars built between 1976 and 1981; Category 4 for 2WD cars with engines up to 2.0 litres built between 1982 and 1985; Group B for cars homologated in Group B as well as cars from other classes that are not in period specification (what the Irish would call 'Modified').
The Barbados Historic Rally Carnival website is now updated with schedule and entry form: barbadosrallycarnival.com